Scott Hanselman has updated his excellent list of tools for developers and power users.
This is a must read list form anyone involved in software development or that spends their day on a PC.  You will save many hours and plenty of computer frustrations by using some of the tools from this list.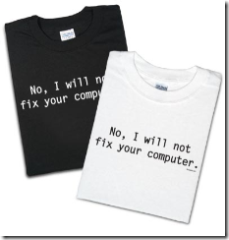 After reading the list and his comments, I think Scott suffers from the same problem I have – always being asked by family and friends to fix/upgrade/clean their PC.
I've thought about buying the "No, I will not fix your computer" shirt from ThinkGeek on more than one occasion! 🙂