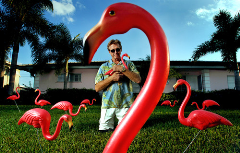 I just heard on CNN Headline news that the factory where the tacky, yet uber chic, plastic flamingos are made will close by November 1st.
Don Fatherstone (yep that's his real name) , the owner/inventor of the plastic flamingos says the Union Products plant will be closing due to rising manufacturing costs.
A very sad day for kitsch lovers everywhere.  I sure hope I can find a few boxes to stock up on!
Since I grew up in south Florida, a backyard cookout just doesn't seem the same without the tacky little creatures peppered about the lawn.
Sure, It's pretty likely some overseas manufacturer will start(?) producing cheep knock-off flamingos soon, but without Don's signature on the tail feathers, it just won't be the same.
RIP Pink Flamingo 1957-2006, gone at a still spry 49.
More Coverage:
http://www.sun-sentinel.com/features/lifestyle/sfl…