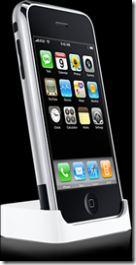 Like everyone else, I've been excited about the iPhone.  But, one of the major drawbacks for me has been the lack of integration with Microsoft Exchange server for syncing email, appointments and contacts over the air (OTA) without a physical cradle connection – as my smartphone does today (and has for the past several years).
Well, it looks like that may have changed, Mary Jo Foley is speculating that Apple has licensed the Exchange ActiveSync protocol from Microsoft.  Though neither Apple nor Microsoft has confirmed this, sounds like a good sign.  A little further digging tonight, and I see that Walt Mossberg confirms this rumor, by briefly mentioning:
Email: The iPhone can connect with most popular consumer email services, including Yahoo, Gmail, AOL, EarthLink and others. It can also handle corporate email using Microsoft's Exchange system, if your IT department cooperates by enabling a setting on the server.
Sounds like great news for geeks everywhere who want the coolest new phone, but still need the business tools they have come to expect such as push email and OTA sync.  I still won't be camping out at the Apple/AT&T store, but the iPhone is looking better and better to me.
Now if we could just get a REAL SDK……
[UPDATE]  – Looks like the initial Exchange support is just through IMAP, which works OK at best.  Hopefully the ActiveSync rumor is really true!