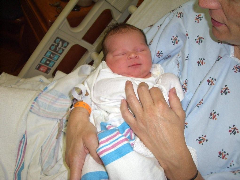 Well, I'm over a week late with this, but lack of sleep
does funny things to your productivity!
Linda & Ed's beautiful baby girl was born this morning, May 8th, at 8:35 AM. Mom and Baby are both doing great!
Baby Erin Devon Holloway is 7 pounds, 8 ounces and 19.5″ long.
This is our first child, and it is an amazing experience.  I can't believe how many things the books and classes did NOT cover, but we are learning as we go, and will figure it all out (sooner or later)
More photos at our Flickr Site!
-Linda & Ed