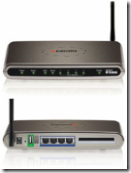 Just getting settled in at the vacation house, and got the Kyocera KR-1mobile router hooked up and running (basically plugging it into an AC outlet – <1 Minute) .  If you are not familiar with the KR-1, it is very similar to a standard WiFi router but instead of connecting it into a broadband connection (Cable modem or DSL), it gets it's Internet connectivity through an EVDO cellular card – and it is AWESOME!
Even if I am the only one using the Internet connection and don't need to share the WiFi with other users, I prefer using the KR-1 over just plugging the EVDO card directly into my X41's PC Card slot.
Why?:
Speed – even though it doesn't make sense, the EVDO connection is faster (I've tested with online bandwidth tools) in the KR1 than it is directly plugged into a PC.
Location,Location, Location – Unfortunately EVDO has all the same nuisances of using a cellular phone – it works great in some parts of the house / office / hotel room, and in other areas it has little or no signal.  With the KR-1 I can place it in the strongest area (The web config utility actually shows signal bars), and then roam anywhere else in the area via WiFi and not have to rely on a cellular signal.
PC / Windows Issues – PC Cards are notorious for getting into bad states when the PC goes into a standby/sleep/hibernate mode.  EVDO cards are no different, and in many cases it requires a total reboot of the laptop or tablet PC to get the card working again.  5 minutes wasted.  The KR-1 removes this issue completely.
Reliability – The KR-1 reconnects on dropped signals automatically, no more pulling up the EVDO dialer app to manually reconnect (and wait).  Very cool.
I've been using the KR-1 for several months now, and it is a definite two thumbs up!  I am fortunate enough to have both a Sprint & Verizon EVDO card, and so far I have always been able to get a great WiFi spot going with one of them and the KR-1 – Including a recent road trip.  It was just so cool and uber-geeky having a mobile hotspot inside the car!