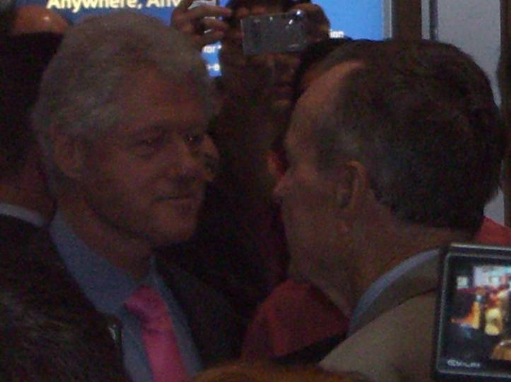 I was at CTIA for a few days this week, and as I was walking the floor yesterday morning I see a golf cart whiz by with a bunch of 'black suits' in it.  Next cart had, what I thought was my good friend Dennis Rice in it, boy has he got some clout, I thought.  When I yelled hello, and got ignored, I assumed it was just all going to his head 🙂
I then realized maybe it wasn't Dennis, and that it was Bill Clinton – another cart whizzing by full of the suits with headsets confirmed this for me.  Al the carts stopped just 20 feet away, and as I looked back, a huge mob was quickly approaching.  I quickly moved over to where they stopped (they were doing a press interview), and got right up front.
Talk about being at the right place at the right time – I was right in front and got up close with Bill & George.  Not everyday you get 10′ away from two ex-Presidents!  Pretty cool day.
But the highlight had to be as I was leaving…as I pushed my way through the crowd to leave, I heard the following conversation:
Tradeshow BoothBabe:  "I just want to get close enough to see Bill, and shake his hand"
Random Guy in crowd: "Oh honey, he'd let you do much more than shake his hand!"
Haha too funny!