I've made many significant improvements and bug fixes to the Ink Search Tool, and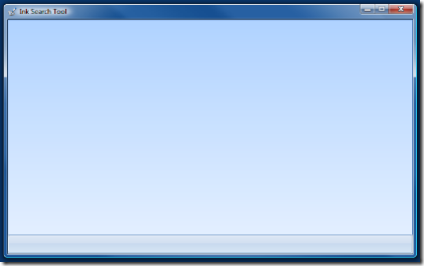 publicly released Beta 2 today!  This release is much faster, and has many new features – Including Desktop Search! WooHoo!
For those unfamiliar with the Ink Search tool, this is a Tablet PC application that lets you write ('ink') search terms on your screen rather than typing or using the Tablet Input Panel (TIP).  A more general background can be found here.
Now for the good stuff….  New in this release:
Much faster with a lighter footprint
Full Windows Vista support (as well as Win XP)
Enhanced GUI updates (Very Vista / Office 2007 look, even on Windows XP)
Ability to search Google Maps
Google Desktop Search!!!
Wikipedia Search
Slight tweaking in the handwriting recognition
And of course, regular Google Search is still in here too
All of the new searches are enabled with a button called, More Searches, selecting that will give you a drop down with the additional searches.  Note: If you do not have Google Desktop Search (GDS) Installed, you will not see the Search Desktop option.
One really cool feature with searching Google Maps is that once you set your default location (via Google) you can enter a business name or type (ex: Computer Stores) and the search will show you the closest matches on the map.  Very neat!
(Please uninstall Beta 1 first if you have it installed)
I'll be adding some additional features soon!!  Keep Watching!
As always, I'd love to hear your input, feedback, and feature requests. Please get in touch here.