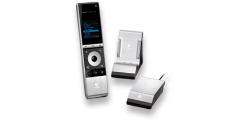 I just got word that the new Logitech Wireless DJ Music System is now available.  Retail price is $249.99 direct.
This seems like a great way to stream your digital music collection through your house.  It works by installing their Streampoint software on your PC, plugging in the base station, and then connecting a wireless remote station to your stereo.  You can then access any song, album or playlist on your PC via the graphical remote and stream it from the PC to your stereo.  Logitech also claims that the system will work with Internet radio and podcasts, but does not list comparable providers yet.
This system also uses it's own wireless system, so you do not need to install or configure a WiFi router for use.  All in all, this seems like a nice system, and a real competitor to the $1000+ Sonos wireless music system.