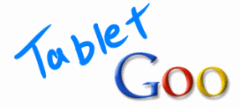 Ever since Google announced the Search Engineco-op program, I've been wanting to spend some time with it and see how powerful it really is.  I've created several personal search engines over the past few weeks, and have been very pleased with the results, and the ability to narrow my searches to specific sites on the interweb.
This past weekend, I finally made the time to throw together a search engine focused on Tablet PCs and Mobile Computing.
Today I present TabletGoo.com – the one stop search tool to find anything Tablet PC related from you favorite Tablet PC web sites and blogs. Yes, it is REALLY hard finding good domain names, but it is fun to say, and will grow on you, promise! 🙂
I've got many other features I'll be adding to TabletGoo.com over the next several weeks that will make web surfing on a Tablet PC a MUCH MUCH easier experience – so bookmark it, and stay tuned and check back often!
Note: I've added the Tablet PC/Mobile sites from my bookmarks, RSS feeds, etc… but I am sure I have missed plenty.  So if you have a favorite Tablet/Mobile site that is not showing up in searches here, please contact me and I'll get it added to the engine right away.