There always seems to be debates on getting links from A-List bloggers, and how hard it is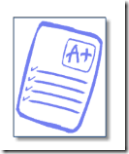 for the average blogger to get traffic.
I must have fallen under a lucky star, since Scoble linked to me yesterday – only 3 days after my new blog went 'live'!
So I guess the secret is just writing a Tablet PC plugin for whatever software (MS Live Writer, in this case) Robert has just started using.  The (semi) groveling email probably helped too :-).  Either way, thanks for the link Robert – and when are we going to see an Ink blog post from you?