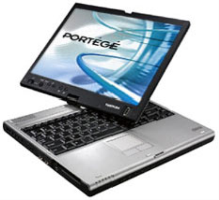 I just installed Vista on a shiny new Toshiba M400 Tablet straight out of the box (I booted to XP once just to make sure the hardware was ok).  One of the items I have not seen addressed, and that I was concerned about was whether or not the internal Verizon WWAN EVDO card on the M400-S4032 would work under Vista.
I'm happy to report that using the XP driver for the Novatel Card, available from Toshiba here works just fine.  I have not used EVDO much yet (just 5 minutes to verify it works), but Vista does recognize the device using this driver, and makes a connection just fine.  One less Vista worry 🙂
[Update 9/24/06] – A few additional items, and answers to questions:
Make sure to activate the EVDO card under XP, and get it running there first
If you install Vista to a bare drive (not an XP upgrade) you will want to install a few utilities :

Toshiba 3G Power Manager, available on Restore DVD #4 at \comps2\Toshiba 3G RF Power Control Utility\Manual.  Just run the self extracting zip. (Note, if you have CDs instead of DVDs, I do not know what CD# they are on, but I would guess it is on one of the last ones in the set)
Latest Verizon Wireless Dialer App, available here

I've had some on and off issues using the VZW dialer app, but you can create a dial up connectoid (are they still called that in Vista?)  in the following format:

Phone #777
User: YourPhoneNumber@vzw.com (where YourPhoneNumber is your 10 digit phone number, assigned to your card) Note: some people may need to use @vzw3g.com instead of @vzw.com
Pass: vzw
If you google #777 and vzw, you'll get a lot more information about setting this up.
Other Vista Resources for the Toshiba M400: